Action
14 Stick Packs
Subscribe & Save
Our Action blend is full of vegan BCAAs, L-Glutamine, and L-Arginine to replenish your body's muscle proteins and jump-start the recov... More Info +
Fights Fatigue

Fuels Performance

Enhances Hydration
15

Calories

0g

Sugar

2400mg

of BCAAs
Ingredients
VITAMIN C, SODIUM, POTASSIUM, AMINO ACID PROPRIETARY BLEND - L-GLUTAMINE, L-ARGININE, L-LEUCINE, L-ISOLEUCINE, L-VALINE - CITRIC ACID NATURAL LEMON FLAVOR, NATURAL GRAPE FLAVOR, DISODIUM PHOSPHATE, SODIUM CITRATE, MALIC ACID, REBAUDIOSIDE A (STEVIA LEAF EXTRACT), DIPOTASSIUM PHOSPHATE, POTASSIUM CHLORIDE, SODIUM CHLORIDE, VEGETABLE JUICE FOR COLOR
Supplement Facts
15 Calories
2g Carbohydrates
180 mg Vitamin C
220 mg Sodium
70 mg Potassium
2400 mg L-Glutamine, L-Arginine, L-Leucine, L-Isoleucine, L-Valine blend
How to Use
Pour 1 stick pack of Action into 16-20 oz of water. Shake and enjoy 30 minutes before or throughout your training or workout.
Nutritional breakdown
All of the benefits, none of the trade offs
Reduce muscle and mental fatigue while staying hydrated with Action.
Hydration Drinks

action

Protein Drinks

Calories

80
15
140

Carbohydrates

22g
2g
23g

Added Sugars

21g
0g
9g

Essential Electrolytes

160mg
220mg
165mg

BCAAs

0
2400mg
2.2g*

Absorption Rate of AAs

NA
15-30m
60-90m
*per 10g of protein

frequently asked
We've Done the Work for you
When should I take Action?
You can drink Action 30 minutes before or throughout your training or workout.
How many electrolytes are in Action?
Action contains 220 mg sodium and 70 mg potassium.
How many amino acids are in Action?
Action contains 2400 mg of our proprietary blend of Leucine, Isoleucine, Valine, Arginine, and Glutamine.
Does Action break a fast?
The short answer is yes, BCAAs do technically break a fast. However, not in a way that will reduce any of the potential health benefits of fasting. A fast is broken when we consume anything that has caloric value and causes an insulin response. BCAAs do trigger a small insulin response, but it is not a spike by definition. And, it is not enough to switch your body out of the predominantly fat burning state.
To learn more: https://www.amino-vital.com/blogs/new/do-amino-acids-break-a-fast
Does Action contain caffeine?
No, this product does not contain any caffeine. We only use vegan amino acids and electrolytes to help provide your body with natural energy.
featured athlete
Renee Harrington Team USA
"Action helps to prevent muscle cramping during my workouts. It also helps me to maintain electrolyte balance throughout the day."
Fights Fatigue

Fuels Performance

Enhances Hydration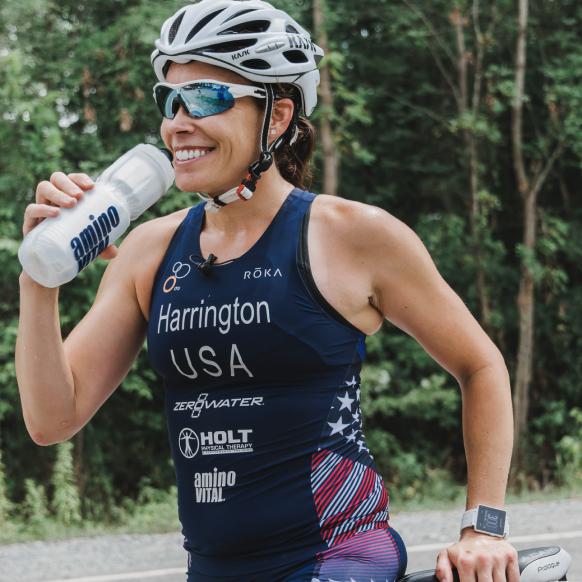 Share Your Workout with Us
@aminoVITAL_us