Rapid Recovery
14 Sticks
Subscribe & Save
Rapid Recovery feeds muscles with powerful vegan BCAAs, L-Glutamine, and L-Arginine to heal broken down muscle tissue and relieve muscl... More Info +
Fights Fatigue

Fuels Performance

Rebuilds & Repairs Muscle
60

Calories

2g

Sugar

3600mg

of BCAAs
Ingredients
VITAMIN C, CALCIUM, PHOSPHORUS, SODIUM, POTASSIUM, AMINO ACID PROPRIETARY BLEND - L-GLUTAMINE, L-ARGININE, L-LEUCINE, L-ISOLEUCINE, L-VALINE, CLUSTER DEXTRIN HIGH BRANCHED, SUGAR, CITRIC ACID, MALIC ACID, NATURAL FRUIT FLAVOR, SODIUM CITRATE, DIPOTASSIUM PHOSPHATE, REBAUDIOSIDE A (STEVIA LEAF EXTRACT), POTASSIUM CHLORIDE, SODIUM CHLORIDE, VEGETABLE JUICE FOR COLOR
Supplement Facts
60 Calories
2g Sugar
150 mg Vitamin C
88 mg Calcium
60 mg Phosphorus
106 mg Sodium
180 mg Potassium
3600 mg L-Glutaime, L-Arginine, L-Leucine, L-Isoluecine, L-Valine blend
How to Use
Pour 1 stick pack of Rapid Recovery into 16-20 oz of water. Shake and enjoy 30 minutes after your training or post-workout.
Nutritional breakdown
All of the benefits, none of the trade offs
Reduce post-workout muscle soreness with Rapid Recovery.
Hydration Drinks

Rapid Recovery

Protein Drinks

Calories

80
60
140

Complex Carbs

0g
10g
23g

Added Sugars

21g
2g
9g

Essential Electrolytes

160mg
106mg
165mg

BCAAs

0
3600mg
2.2g*

Absorption Rate of AAs

NA
15-30min
60-90min
*per 10g of protein

We've Done the Work for you
frequently asked
When should I take Rapid Recovery?
You can drink Rapid Recovery directly after your training or workout.
Why doesn't Rapid Recovery dissolve quickly?
The complex carbohydrates we use in our formula can cause clumping. Try mixing in a shaker bottle or waiting for the clumps to dissolve.
How many electrolytes are in Rapid Recovery?
Rapid Recovery contains 88mg of Calcium, 60mg of Phosphorus, 106 mg of Sodium, and 180 mg of Potassium.
How many amino acids are in Rapid Recovery?
Rapid Recovery contains 3600 mg of our proprietary blend of Leucine, Isoleucine, Valine, Arginine, and Glutamine.
What is the carbohydrate in Rapid Recovery?
Rapid Recovery contains Highly Branched Cyclic Dextrin which is a gluten-free complex carb. Rapid Recovery also contains 2g of sugar.
featured athlete
Katherine Nye Team USA
"Weightlifting is just as mental as it is physcial. At least aminoVITAL helps me out on the physical part."
Reduces Soreness

Fuels Performance

Enhances Hydration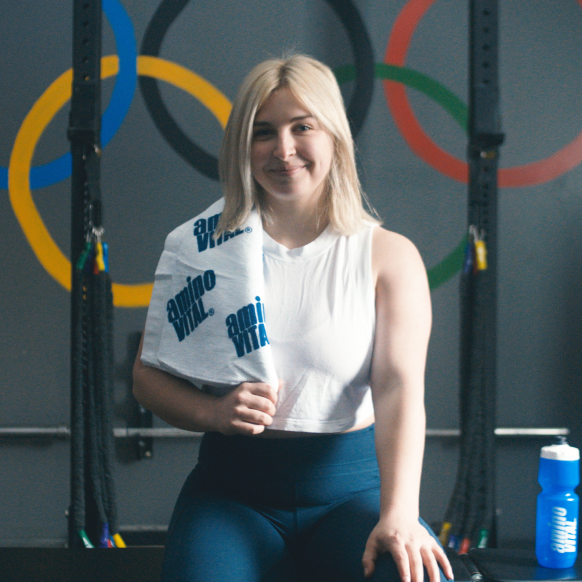 Share Your Workout with Us
@aminoVITAL_us